UPCOMING SERVICES
Trinity Soul Saturday
Friday, 6/18 at 6:00 PM – Vespers & Matins
Saturday, 6/19 at 9:30 AM – Divine Liturgy
Pentecost (Troitsa)
Descent of the Holy Spirit
Saturday, 6/19 at 5:00 PM – Vigil Service
Sunday 6/20 at 9:30 AM – Divine Liturgy
Long-time parishioner Elena Krueger has reposed in the Lord.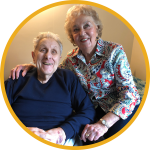 Prayers for her soul and condolences to the entire family.
Schedule of services:
Today (June 15th) at 6 PM – Canon for the Departed
Thursday, June 17th at 6 PM – Panikhida
Friday, June 18th at 10 AM – Funeral Service followed by the burial at St. Vladimir's Cemetery in Jackson.
ALL SERVICES WILL BE HELD IN THE CATHEDRAL.
In lieu of flowers, please consider a memorial donation to the St. Alexander Nevsky Parish Benevolent Fund in Elena's name. (Mail to: 200 Alexander Ave., Howell, NJ 07731 or CLICK HERE to donate online.)
May God grant His servant Elena Memory Eternal!