UPCOMING SERVICES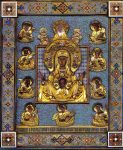 With the blessing of His Eminence Metropolitan Hilarion, the miraculous Kursk Icon of the Mother of God will be at this weekend's services. Do not miss the opportunity to stand and pray with your family before this holy icon!
The Sunday of All Saints
Saturday, 6/26 at 5:00 PM – Greeting of the Icon followed by the Vigil Service with an akathist to the Mother of God
Sunday 6/27 at 9:30 AM – Divine Liturgy with the Icon present, followed by a special molieben
A Parish barbecue will be held in Nevsky Park after the service. Please contact Matushka Luba at 732-966-6140 to find out how you can help.