Become a Parish Member Today!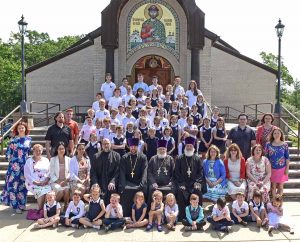 Glory to God, parish life at the St. Alexander Nevsky parish has been flourishing, with an increased number of divine services, performed by four priests and three deacons. Our services are sung beautifully by both our parish choir and male choir, and we have held more large-scale services and events than ever before. Our parish school has almost doubled since last year, where our children study the Law of God and Russian language and history.
As our community grows, so must our efforts! Join our spiritual family and become a member today. Explore the options below to see what is right for you.
You are welcome to use our online payment options for Membership below. And, as always, you may pay at the candle counter or by mail. Make your check out to St. Alexander Nevsky Church and write what the payment is for (e.g. Membership, Proskomedia) on the memo line. The mailing address is St. Alexander Nevsky Cathedral, 200 Alexander Avenue, Howell, NJ 07731.
Membership
Join our spiritual family today!
Your membership supports operating expenses that keep our parish growing.

As a member, you are part of the future of Orthodoxy in America.

Your membership entitles you to vote at our annual meeting parish meeting.

ANNUAL MEMBERSHIP – $240 per person:
MONTHLY MEMBERSHIP – $20 per month per person:

NOTE: You will need to have or sign up for a PayPal account to use this option, but you can still pay with a credit card.