October 31, 2017 marked the 20th anniversary of the martyrdom of Brother Joseph, the guardian of the myrrh-streaming Montreal Iveron Icon of the Mother of God. Memory Eternal!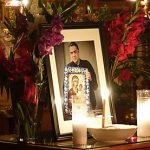 RESOURCES:
The Chosen One of the Mother of God
20th anniversary of Br. José Muñoz-Cortes commemorated in NY
Funeral of Brother Joseph, 1997 – Video
31 октября 2017 г. 20-я годовщина убиения брата Иосифа, хранителя Монреальской Иверской иконы Божией Матери. Вечная Память!
Ресурсы:
Избранник Божией Матери
Иосифа Муньоса-Кортеса – Избранник Божией Матери
Отпевание Бр. Иосифа, 1997 – Видео